Case Study: Hoot Design Co.'s Marketing Strategy, 2015-2017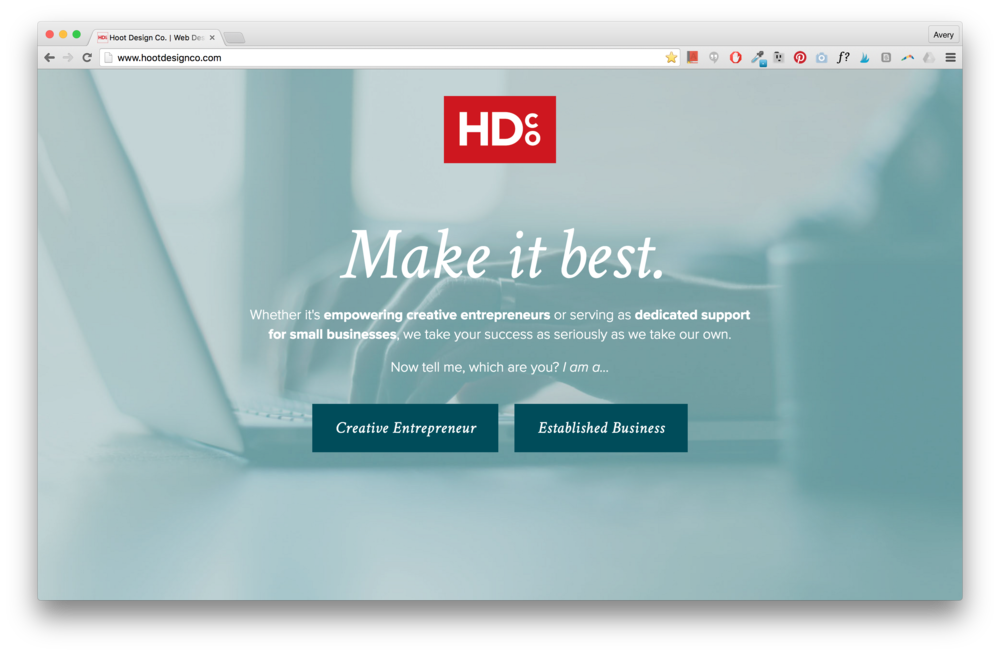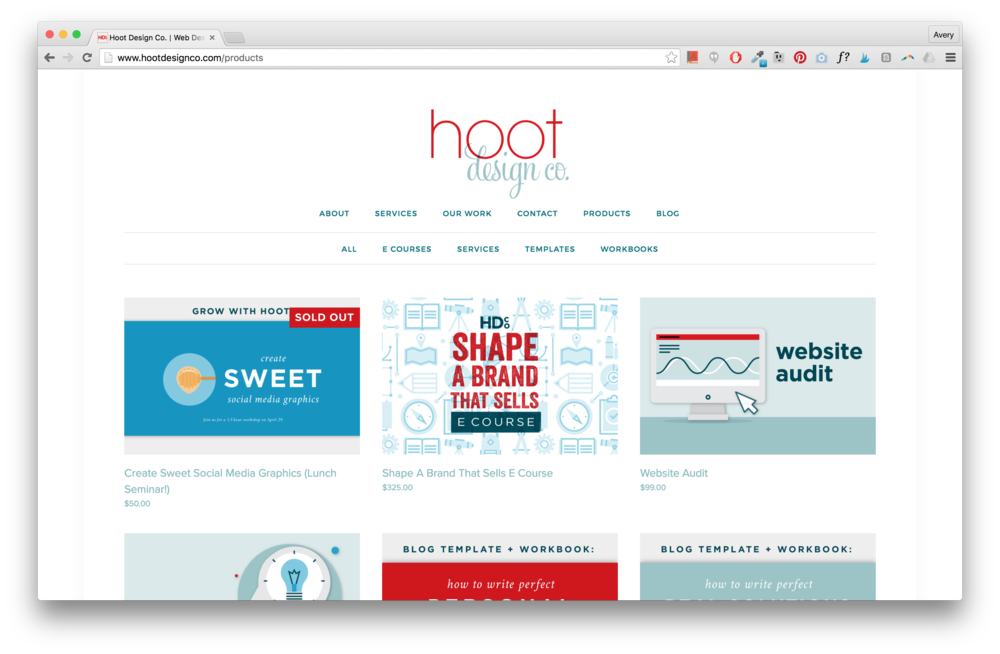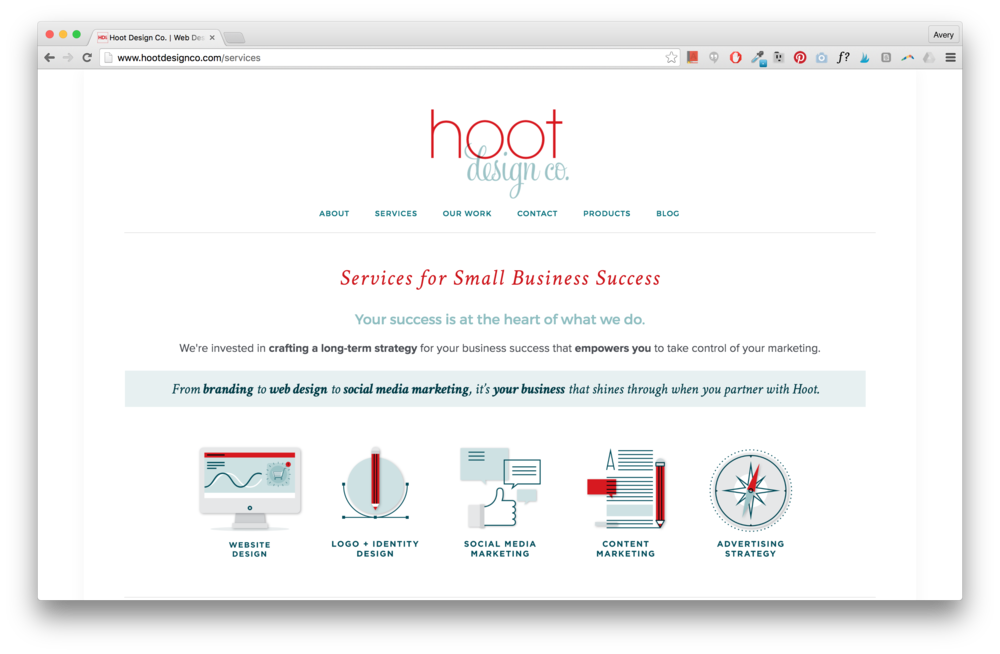 Web Design • Identity • Graphic Design • Print • Copywriting • Marketing Strategy
I've worked with Hoot Design Co. (HDco for short 😉) since 2010, climbing up the ranks from a simple summer internship to becoming the agency's full-time Creative Director.
I've served in many roles, but 2015-2017 stands out as a time period in which I had a significant impact on the company's marketing success.
All the work featured in this case study dates from about 2015-2017 when I extensively overhauled the HDco website, ran the HDco blog, organized our marketing outreach through multiple social media platforms, managed client branding and web design projects, and directed content marketing for many of our clients, all while working as part of the HDco design team to create robust identities for small businesses around the country.
Here's a taste of how I helped HDco achieve success through a difficult transitional period:
i. Hoot Design Co. Website Overhaul
After five years in business, HDco drastically changed course in 2015. We moved away from the focus on printed products and events that had charted our path for years and instead began focusing on what we'd always done best: Marketing strategy for small businesses, built from the brand up.
In order to reflect our shifting emphasis, I needed to completely overhaul the existing HDco website. Here's what I did:
1. Structure through narrative.
You know what I love? Narrative web design. Design that's rooted in building a relationship with the user from beginning to end. Site design that tells a story in which the main character is – you guessed it – not the seller, but the user.
That's exactly what I set out to do with the 2015 HDco site redesign: Lead the user through a story.
The aim of this structure is to create the story in such a way that the user comes to know, like, and trust the company through interaction.
2. Targeted sales funnels
Each button on the splash page funneled visitors their chosen section: Resources for Creative Entrepreneurs + Businesses or Services for Small Business Success. Each directed the visitor toward the appropriate next choice: products, resources, or services.
ii. Hoot Design Co. Blog & Content Marketing—Conquering the World!
I created original content for the HDco blog an average of twice a week in addition to editing other writers' content.
Beyond writing original articles focused on social media marketing, blogging, and Squarespace for HDco, I created all imagery in my posts and designed any handouts or downloads that are included.
A few blog post samples—click through to read:
The HDco blog saw unprecedented success during this time period.
High-quality original content combine with strategic digital marketing meant that HDco saw an explosion of website traffic thanks to the HDco blog.
In fact, the most popular blog post the HDco blog has ever hosted (How to Write an Awesome Newsletter (Anatomy of a Newsletter!)) gained a total of 15,528 unique page views between July 20, 2015, when it was published, and the end of 2017. That single blog post accounted for nearly 8% of all total unique page views on the HDco website during this time period.
Additionally, I grew newsletter signups through creating and maintaining a Free Resource Library that was available to newsletter subscribers.
Offering the downloads and resources through this library as content upgrades on our blog posts was an excellent strategy that succeeded in growing our email list and online sales. Since we transitioned toward offering resource library content upgrades for newsletter signups, we net 10x more email signups per month than pushing our email list alone.
Fun fact: Beyond just writing for our own website, my content was featured on other sites on HDco's behalf.

iii. Hoot Design Co. Digital Marketing
A coherent strategy across social media outlets was essential to HDco's success during this time period. I worked to achieve that success through combining our content marketing with strategic engagement through our Pinterest, Instagram, Twitter, Facebook, and newsletter marketing.
• PINTEREST
Pinterest was a perfect fit for HDco's content marketing distribution. It is and incredibly brand- and product-friendly platform that attracts people who want to search for information and inspiration, not just network with existing friends. Where Facebook and Twitter are about connecting and communicating, Pinterest is about buying, doing, and planning. Yet it still suffers from a soccer mom and crock pot recipes stigma.
I managed the HDco Pinterest account during this time period. It was the leading source of traffic and online sales for HDco, and my original content has even gone viral.
2015-2017 were some great years for HDco, and for me.
Since creating this case study, HDco has evolved with a new brand, attitude, and focus. The marketing may look different now, but the strategies and content I built for the OG marketing efforts have been the foundation for all HDco's growth.